Isabella is a popular Dominatrix and Submissive who loves to eat. She is bigger than she was when our photos of her appeared in BUF(tm) magazine. She is also in the June '97 issue of BIG BUTT(tm) magazine. Three videos in one. You can see her EAT and Dance and have some dildo fun while she tells you about her favorite foods. 1 hour and 23 minutes of Action.
---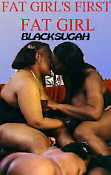 ... Fat Girl's First (FAT) Girl ---
This video shows you what happened when two girls showed up for a photo shoot and one seduced the other for her first experience with a girl. 60 minutes of real action!
---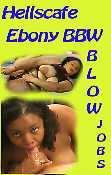 ... Ebony BBW Blow Jobs 1 ---
Asheena is a big BBW who loves to suck cock. She wants to keep sucking and then get a mouthful so she can swallow it. Kim wanted to show how good she is so she gave a very enthusiastic blow job and kept licking the cum after. She gets hot and you can see her cum. Staring: Asheena & Kim.
---
Asheena gets a load of cum in her mouth. She wanted to swallow the cum and wasn't satisfied with just getting it squirted on her face so she asked for a spoon so she could get it all in her mouth and swallow it. Faith is a college student BBW. She loves to show off her big ass and 40DD tits. She has excellent oral skills and sucked in lots of positions that show off her assets. She surprised us when she said she also like to lick ass, so you can see skills in that area also. Odyssey has huge size KKK tits. She is hot and you will see her cum as she gets hot showing off her humongous boobs and big ass. Starring: Asheena, Faith, & Odyssey.